A job perfectly done....
The Italian Job (Paramount)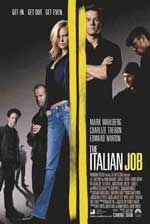 U.S. Release Date: 5/30/03 (wide)
Running Length
: 1:46
MPAA Classification
: PG-13 (Violence, profanity)
Cast
: Mark Wahlberg, Edward Norton, Charlize Theron, Seth Green, Jason Statham, Mos Def, Donald Sutherland
Director
: F. Gary Gray
Producer
: Donald De Line
Screenplay
: Donna Powers & Wayne Powers, based on the 1969 screenplay by Troy Kennedy-Martin
Cinematography
: Wally Pfister
U.S. Distributor
: Paramount Pictures
Review
T
his is a light movie very stylishly made and well even though after watching the movie you will find that something is missing. Its a story about a heist and is based on the game version of it. Charlie Croker ( Mark Wahlberg) is the wheelman of the gang of theives which includes Donald Sutherland, Edward Norton, Jason Statham, Mos Def and Seth Green. The film begins with a interesting heist of a safe in Venice, Italy establishing the story line of how the team is proficient in planning a theft with modern intelligence and organized planning.
T
he team gets double crossed in this heist and thus results in building up the plot of how they get the loot back with the help of Stella ( Charlize Theron), who is a professional safe opener and is motivated by the thought of getting back at the double crosser and thus helping Charlie in his quest for revenge and regaining lost loot.
A
simple story made interesting in bits and pieces.. good humor thrown in to balance the bland script... specially the flashback and the funny comments...Seth Green looks adorable ...
E
diting is neat and you can watch this movie without a bat of an eyelid and feel good about it. It does not however hold the suspense of a great thriller but it has its moments of being taken by surprise...
I
would rather call it a soft thriller.. which is like a good way to spend a lazy evening without thinking too much.... By the way it also has shades of bollywood making providing dhin chak music ... LOLOL..
I
was expecting a hard core serious movie about the heist being a big part of the movie.. but was kind of disappointed as the story unfolded but it was ok .. this will not create a big impression on you but will sustain you throughout the movie...
T
he best part of the movie is the Mini Cooper which they use throughout the movie to move fast and without much obstacle. I have fallen in love with this Mini...
S
ome words to remember it by ... "There are [thieves] who steal to enrich their lives, and ones who steal to define their lives"