Khushi.. something different !!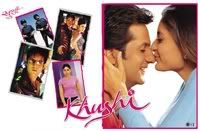 Starring
: Fardeen Khan, Kareena Kapoor
Director
: S. J. Suryal
Music
: Anu Malik
Lyrics
: Sameer
Singers
: Alka Yagnik, Kavita Krishnamurthy, Udit Narayan, Sonu Nigam, Shankar Mahadevan, Kay Kay, Shaan, Srinivas
P
roduced by Boney Kapoor, this movie is about two people who are destined for each other how fate brings them together inspite of their vast differences in their outlook and their backgrounds.
I
t starts with the birth of these two babies Khushi and Karan. Karan is born in Calcutta while Khushi is born in Chamoli in Uttranchal. Both grow up to have different aims and careers but are forced by destiny to change their plans and study further.. in Mumbai where they meet each other.
T
hey start as friends and get closer in the process of helping their close friends get married inspite of opposition. While being friends they cannot admit to each other they might be falling for each other. It so happens that they end up having a big fight which makes them lose their friendship and thus their relationship.. but in the end love prevails and all is well that ends well..
S
eems like a simple story .. and well I liked it just because of the fact that it was for a change a bit unpredictable. Humor is redundant and you can ignore it. Music is good. Kareena overacts sometimes. Fardeen has done OK and is good at looking cute.
S
tory is good but confusing.. yet you will feel OK. which is the normal for Bollywood movie. So you will not realise it at all when you see a posh room with purple room with expensive furniture when they show a hostel, etc.
W
ell something different ... yet something similar... nothing that great but it is ok for good entertainment and timepass.. but not worth thinking about.